Dr. Ruchi Sethi Gutch
India MS person for the year 2021 – 2022
Member MSSI Indore, NYW – Out Reach program, Core Advocacy Group member.
Applied for procurement of CSR funds / skill council / UDID cards
Enrolled MSP in Giftabled, free training in IT and banking
Awareness and sensitisation programs
Future endeavour is enrolling MS persons in Swalamban department
India MS person for the year 2019 – 2020
Punkaj Gupta, born on 11th May, 1976, was diagnosed with MS in the year 2015 and that year itself he became a member of MSSI Bengaluru chapter.
As a member of TGIS (group of photographers), he had an opportunity to participate in the photography exhibition held by MSSI to raise funds in the year 2015 and continues to do so every year.
Currently, Punkaj is the Hon. Secretary of MSSI, Bengaluru chapter. He is supporting the Awareness program on Disability Act with the State Commissioner for Disability.
Conducted a solo exhibition cum sale of his collection of photographs & the proceeds of the same were donated to MSSI.
Participated in 10K marathon in Bengaluru wearing MSSI T-Shirt to raise awareness about MS.
Conducted an awareness walk among Runners High Group in Cubbon Park.
Conducts surveys among MS persons about their expectations & needs from MSSI.
Actively involved with MSIF & MSSI President Mr. Viresh Oberoi on bringing the International MS Navigator initiative to India which helps in supporting members with quick issue resolution for current & potential MS persons.
India MS Person of the year 2019
INDIA MS PERSON OF THE YEAR! 2019 Group Captain Prabal Malaker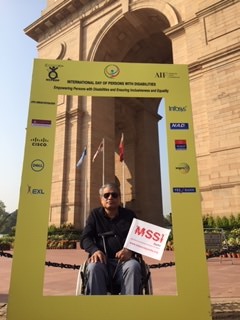 A retired Indian Airforce Test Pilot who has flown almost every aircraft in the Air Force inventory in his time from MIGs', Jaguars', and Mirages', to large transport carriers like the Avro and AN-32. He is a qualified flying instructor, who has imparted training to several young pilots.
His message to fellow MS persons is very straight forward, "If you have a problem, accept it. Work within those challenges and carry on with life. Keep your mind strong and paths will open up", says a 63-year-old Multiple Sclerosis (MS) person, who has never learned to give up against all odds.
Life seemed to be going well until August 1998, when he was diagnosed with the progressive form of Multiple Sclerosis. He had a near-death experience when his plane, upon landing caught fire. Neurologists said that this could have possibly triggered off an autoimmune response to cause MS. In 1999, he was permanently downgraded from flying and his career came to a standstill. He had to retire from active service at the young old age of 52 years!
This was the time when he was introduced to MSSI Delhi by none other than Mrs. Sheela Chitnis, Co-founder of MSSI, by his sister Gopa who was living in Mumbai at that time. He joined the Delhi office as a volunteer to serve many other people like him. He has been in a leadership role and together with a team of some very dynamic volunteers who work shoulder to shoulder to improve the lives of people living with MS. He has been instrumental in setting up systems and procedures for smooth execution of projects, services, and initiatives that are offered to registered members of the society within Delhi NCR.
Prabal is a foody and a movie buff, however, going to movie halls and restaurants in a wheelchair was becoming a challenge since most of these places were not handicap friendly. He decided instead of getting stuck in the house and giving up all the things he enjoyed he would embark on a single point mission; To bring about change in movie halls and restaurants so that a wheelchair user could enjoy barrier-free access. Due to his single-handed and persistent effort, the Disability Commissioner has served notice to Movie Hall Operators which includes PVR, INOX, and Cinepolis A notice has also been served to 480 restaurants and the hotel of Delhi State to conform to the harmonized guidelines of barrier-free access for PwD.
Being an avid traveller, he has conducted accessibility audits for hotels and tourist sites in Jodhpur, Udaipur, Ranakpur, Sarnath, Varanasi and Sri Lanka for a Cox & Kings Accessible Holiday segment called Enable Travel.
He heads the advocacy arm of the MSSI Delhi chapter and has been engaging with the Delhi State Disability Commissioner on a regular basis to bring about change in policy and assessment guidelines for disability and advocates for the right of people with Multiple Sclerosis.
We wish him good luck and good health always!
Group Capt. Prabal Malaker
The next nominee of #IndiaMSDay Person of the Year 2019 is Group Captain Prabal Malaker (Retd) who like everyone here knows has served the country as an air force fighter pilot and is now part of the Multiple Sclerosis Society of India – MSSI – Delhi.
Read more
Raj Dhyani
The first thing you notice is the zest and passion that flows from Mr. Raj Dhyani's voice, our nominee of #IndiaMSDay Person of the Year 2019 from the Multiple Sclerosis Society of India. Mumbai Chapter.
Read more
India MS Person of the year 2018
This was the first time we decided to institute the India MS Person Award. We received a number of excellent and deserving nominees from our Chennai, Hyderabad, Kolkatta and Pune chapters.
It was not easy to choose a winner as all the nominees have remarkable qualities and are MS heroes in their own way. However, it was decided to present Ms Jyoti Ronghe with the 2018 award in recognition of the valuable contribution that she is making towards generating awareness, fundraising and leading the India Ms Day events across the country.
Background
Married since 1981, Jyoti has two highly educated married children and two grandson who are all located outside Pune. Jyoti and her husband, who is a lawyer, stay alone in Pune and she manages her home with the help of a part time maid.
Her association with MSSI started in 2000 and a few years later she became a committee member of MSSI Pune Chapter. She is involved in all our activities, raising funds, startinga Human Chain with the tag line "Yes We Care" to spread awareness about MS.
To create awareness about MS she conducted three reach out programs, two to Ahmednagar and one to Sangli/Kolhapur during the years 2013 to 2016. In Ahmednagar she addressed the local association of doctors as also the College of Social Work where the main audience consisted of students. Her talks were well received, specially with the emphasis on the fact that MS attacks youngsters just as they get ready to start their careers. She also talked in Marathi over their local radio station to create awareness about MS. In Sangli and Kolhapur she held discussions with neurologists and requested them to inform their MS patients about MSSI Pune Chapter.
For MS Persons registered with MSSI Pune Chapter, she organised trips to Shirdi on two occasions and arranged for the patients to proceed for darshan without sanding in the queue for hours. She also raised funds to cover part of the expenses for these trips.
She located cheap supplies of adult diapers and initiated the idea of distributing adult diapers to MSPs. The idea was taken up by the Managing Committee and free distribution of diapers to MSPs was started.
In 2016, as part of India MS Day, she arranged for Akashvani to broadcast live talks about MS by an eminent neurologist. the broadcasts were spread over four days and she herself also spoke about MS on this occasion.
She has attended all MSSI AGMs regularly. For the MSIF conference to be held in Delhi, she single handed collected Rs. 100,000/- which was sent to MSSI HO.
In MSIF there is a committee of MS Persons from all over the world and she represented India on this Committee in 2009 and 2010 as the tenure for this was for a period of two years. She raised funds to cover her expenses to the UK to attend the conference. She has been nominated twice as MS Person of the year for the James D Wolfensohn award, once in 2009 and again in 2013. She holds certificates to this effect from MSIF.
She has taken part for six consecutive years in the"Mumbai Marathon with Disability" event.
Lastly, she was instrumental in starting the India MS Day during a time of the year when the weather is more suitable for MS Persons to take part in the event.
More than what is chronicled above, we need to salute Jyoti's unflagging courageous spirit and passion for whatever she undertakes to do for other MS Persons, especially in view of the fact that her body refuses to keep pace with her quick-thinking brain and fully dedicated attitude. This, above all, is Jyoti's hall mark … do whatever needs to be done … success will follow … if not, it is still OK!