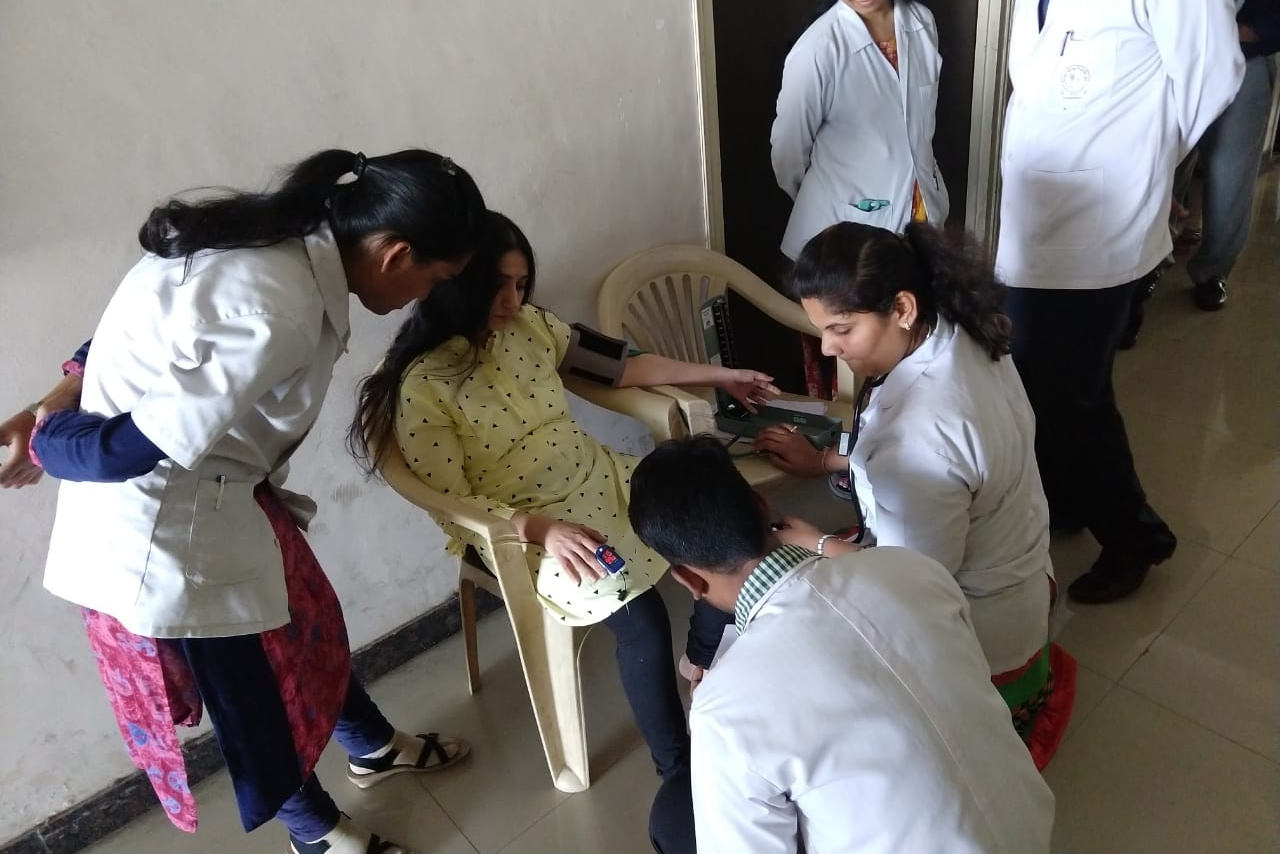 The Physiotherapy camp was organised at Tilak Maharashtra Vidyapeeth, Gultekdi Pune on Tuesday 27th November 2018 with the initiative of Ms Pooja Shevale intern physiotherapist of the college. This camp was organised as part of her study project. In turn, it helped our MSPs in assessing their ambulatory capacities and other related health issues faced by them.
In all 70 participants attended the camp, which included 6 MSPs, 6 caregivers, 4 staff members and rest intern students of the Physiotherapy Department of the college.
The program started at 10.30 am with the Welcome address by Dr Ujwal Yeole, Principal of the college. He welcomed all the participants and appreciated the efforts of MSSI Pune in organising the camp. He informed the participants that total about 9 batches of physiotherapists graduated from the Vidypeeth and are providing physiotherapy services. Some graduates are even settled abroad are in the same profession. The Tilak Maharashtra Vidyapeeth is associated with the Parkinson Society of India and would also like to be associated with MSSI Pune with a view to offering services to the MSPs of MSSI Pune Chapter.
Then Dr Tushar Dhavale took over and explained in his speech the various deficiencies of MSPs in terms of their strength, range of motion, mobility restrictions, blurred vision, speech difficulties, bowel and bladder irregularities and most commonly the back pain faced by them. He discussed the benefits of Physiotherapy in providing relief to MSPs. The participants appreciated the talk and thanked him for sharing vital clues to further treatment decisions which included Energy conservation techniques, right way of doing exercises in addition to proper medication and periodic checkups.






Thereafter Mrs Asha Merchant Hon Jt. Secretary of MSSI Pune expressed thanks to the organisers of the camp, Dr Ujwal Yeole, Principal of the college and Dr Tushar Dhavale, Professor of Physiotherapy. She also briefed the participants on the important role of MSSI in identifying the MSPs and taking care of them by providing medicines, physiotherapy, mobility aids, hospitalisation, counselling etc. She also said that MSSI not only provides medical assistance to needy persons but also organises other social events like picnics, get to gathers, lunch parties etc so that MSPs do not feel left out and socially neglected.
The discussion of the camp concluded at 11.30 am. This was followed by a delicious breakfast and tea which was sponsored by Tilak Maharashtra Vidyapeeth.
After the breakfast, all the MSPs were taken to OPD where Doctors carried out medical checkups and strength assessment exercises of each MSP with the help of intern students of the college. The college authorities agreed to share the reports of every MSP with MSSI Pune. The camp concluded at 1.30 pm.