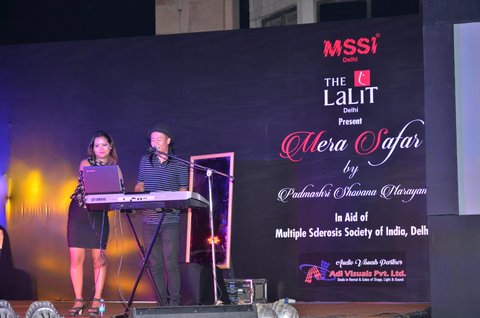 MSSI Delhi had the pleasure of holding a dance recital by Padmashri Shovana Narayanji .  The dance ballet "Mera Safar"  based on the uplifting & thought provoking poetry of Ali Sardar Jafri was presented by  Shovana Narayan & her Asavari  Foundation .
This was attended by our donors & supporters and MS patients who were charmed by the wonderful new Banquet space at The LaLit – the Terrace Plaza .
The programme started with a vote of thanks to all our Donors & supporters of 2017-2018 .
Programme highlights  included straight from the heart inspirational personal stories by 3 of our "MS Power Girls". Praveen Khetarpal, Shalini Monga & Sohini Banerjee . They spoke about their journey with MS, how with support of their families & partners they were able to carry on with life. They also talked about the role of MSSI in " bringing us closer" and making sure that they remain in the mainstream of life.
The evening concluded with Muzikafe  playing popular numbers for all present .. The rousing " I will survive.. " received 2 encores ! And of course the ever popular Lucky Draw  for all Donor Pass holders & MS Persons.
We remain indebted to Mrs Jyotsna Suri , CMD of Lalit Group and the wonderful Hotel team headed by Vivek Shukla for a superbly organized function .