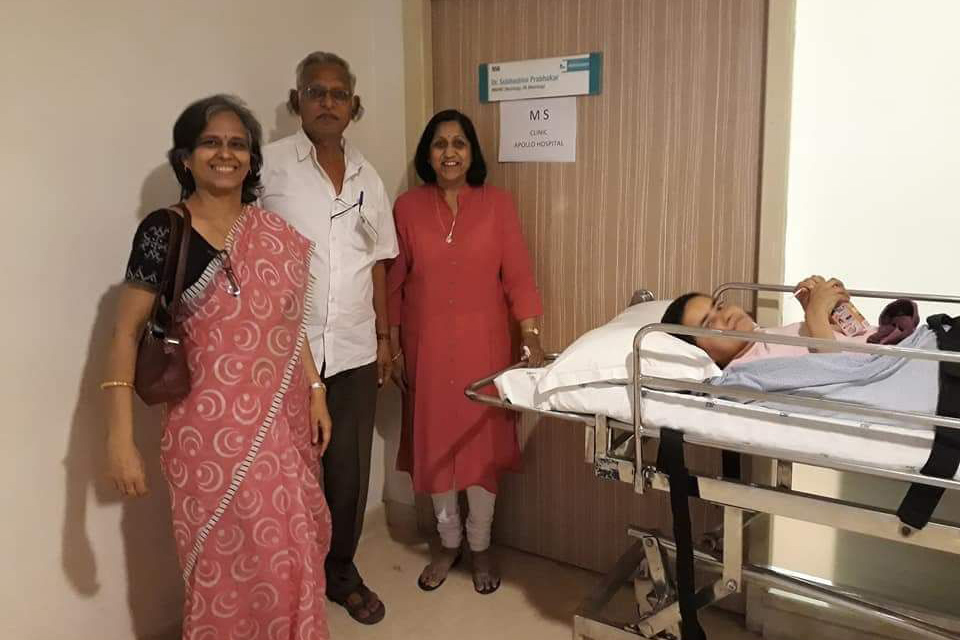 MSSI Hyderabad Chapter conducts a free MS Clinic at Apollo Hospital, Jubilee Hills, which is organised quarterly, for the MS patients registered with the Chapter. This has been a very successful imitative by the Hyderabad Chapter. We started this clinic on April 2014, when Dr. Subhashini Prabhakar, Neurologist, HOD Neurology and Dr. Namita Singh, Neuropsychologist, offered to give free consultations to the PwMS.
Only 4 patients are registered for each session, so that each one gets ample time with the doctors to discuss and clarify their queries. The PwMS members have expressed their extreme happiness and satisfaction on this initiative and showed interest to participate. If any follow up has been advised by the doctors, Hyderabad Chapter take care of that too. We have got a tremendous response from the PwMS for this innovative clinic initiative.
Testimonials by PwMS and Caregivers
---
Unlike the hustle-bustle we usually see at a Neuro OPD, we were welcomed, our papers were filled, we were properly guided and taken to the three consultants without much waiting. The doctors were very accommodative, showed patience, and were ready to listen to what has been said, examined us and gave useful suggestions. Though I am a patient of a different consultant, they never even for a while thought I am an outsider. Overall experience has been excellent. Once again, A BIG THANKS to MSSI Hyderabad.
Dr. Srinivas Mondrety (PwMS)
---
MS society of Hyderabad has been very cordial and cooperative towards me and my sister. They came in at a time when I was totally blank of how to proceed further in treatment of the disease approximately seven years back. They have tied up with Apollo Hospital and arranged for regular check-ups from prominent neuro physicians and other related doctors that keeps a check on the unpredictable developments in the patient.
Archana Arora's brother Manish Arora (caregiver)
---
Thank you MSSI – Hyderabad Chapter & Apollo Clinic Neuro Team
The word free always attracts but also gives you a negative sense of the quality of your session. But that's not the case with MS Clinic at Apollo. The Doctors are very much committed to these PwMS meetings but also treat us like any normal person giving you the utmost importance and spending a good quality of their time with us.
Maheshwar Kusuma (PwMS)