1."Nrithya Sandhya" Music, Dance and a talk by 4 of our MS Ambassadors in the presence of the State Commissioner of Disability, Mr. Arun Roy at Express Avenue Mall, Chennai on May 26, 2018 .
We had standees at Express Avenue mall showcasing the support, symptoms, facts on MS.
Our MSP MS. Grace Arundati did the compering part.
Our MSP's Ms. Monolisa, Ms. Kalaivani, Mr. Rajesh, and Mr. Siva Kumar talked of their achievement with MS.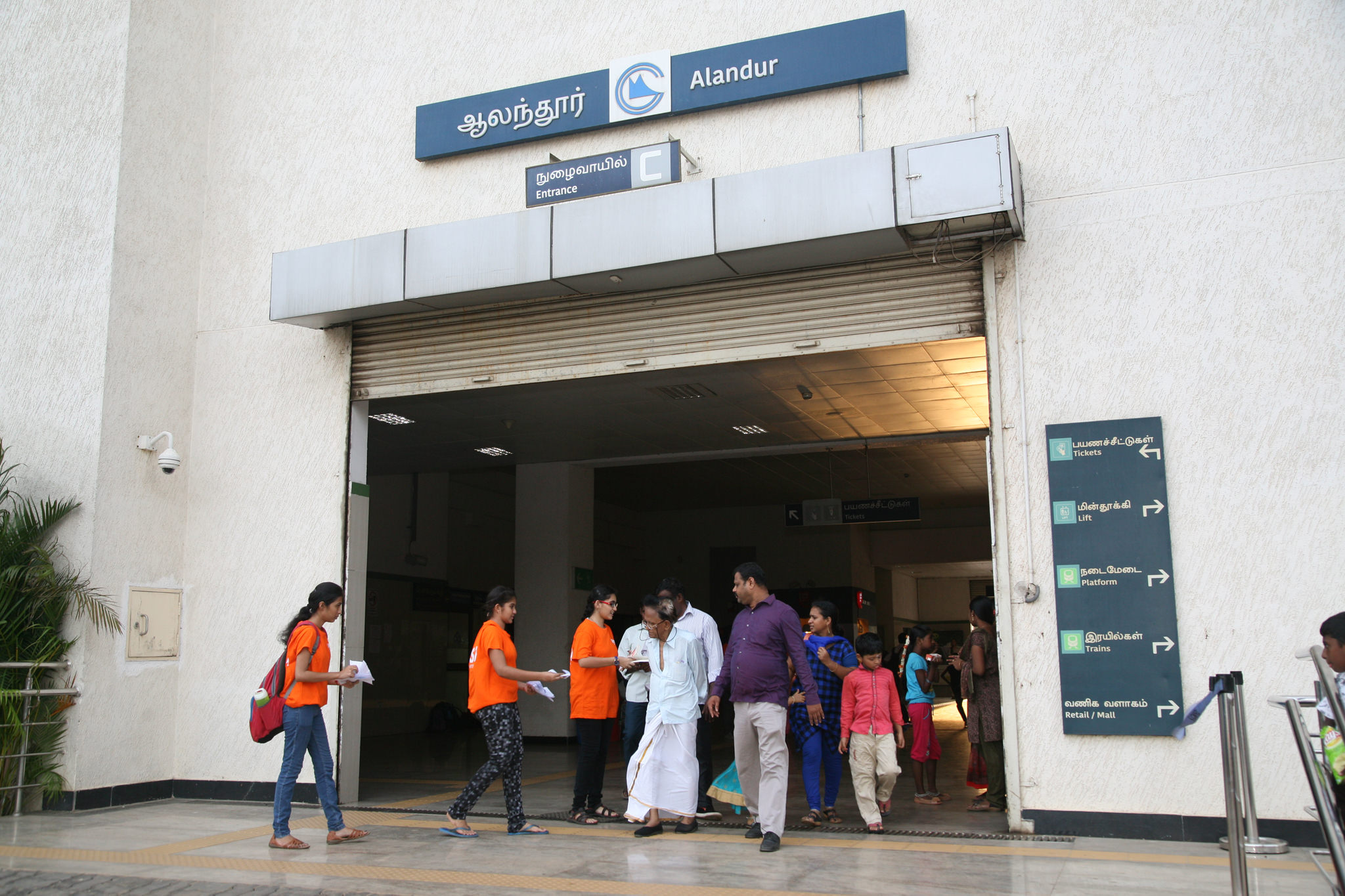 2. Creating Awareness in Chennai Metro Rail Stations.
Our committee members and volunteers in large numbers displayed standees banners and literature on MS was handed to the public at large who used the Metro Rail. The highlight of the event was that Metro Rail had opened up 10 new stations to the public 5 days earlier, and to encourage its use, the train rides on the length and breadth of the Metro Rail was free. So more number of people against our expectation thronged the stations. The highlights were that in 2 particular stations, Metro Rail, Central Mofussil Bus stand, Egmore Station–where long distance trains go down South and the local suburban electric trains meet, was our greatest awareness point – average 20,000/- people pass thru these 4 points everyday- huge awareness about Multiple Sclerosis.
3. The Cinema Screen at AGS Cinemas in Chennai
Courtesy to Mr. Sivakumar of AGS Cinemas: A slide portraying MS and its symptoms were shown on screen from Friday (25th May) to 30th May at noon, evening and night shows. This created a lot of awareness among the public at large.
4. Rajiv Gandhi Government General Hospital and Medical College, Chennai.
The Chief Guest was the Hon. Minister of Health and Family Welfare, Govt. of Tamil Nadu.
This was in presence of the dean of the college, Dr.Mrs. Jayanthi, heads of all the 16 departments in the hospital, nurses, paramedics, physiotherapists, pharmaceutical company representatives, patients and press in attendance. 5 MS patients received MS AMBASSDOR AWARDS while Dr. Sarala ( Dept of Neurology) and Mrs. Ann Gonsalvez (Chairperson, MSSI, Chennai ) received MS CRUSADER AWARDS from the minister. Orange balloons were released into air, a CD on MS was released and Orange lights lit up the hospital building. It really echoed the theme "Bringing us Closer".
5. BNY MELLON – Our CSR Partners held a Poster competition highlighting their ideas of MS.
On 30th May Evening , at DLF cybercity we had an indoor programme with BNY Mellon( our CSR partner) employees, MS persons, caregivers and Office staff. They had a completion of posters among the employees and MSP"s had the PRIVILEGE of judging the best three posters. Awards were given to the best three posters by MSSI. BNY Mellon volunteers had a small entertainment with a song, dance, and a talk show by our MS ambassador, Mr. Gopi. There was talk by 2 BNY Mellon Volunteers on how much their life and attitude has been guided after their association with MSSI,Chennai.
6. Lighting up in Orange
To mark the 21st year of the FUNCTIONING of Multiple Sclerosis Society, Chennai Chapter, 21 Prominent Buildings supported us by lighting in "orange' colour…to name few :Rippon Building, Commissioner-Corporation of Chennai, Acropolis, Bergamo, Office of the Commissioner of Differently Abled, Office of Inspector General of Police, Hablis Hotel, Ashok Leyland corporate office, Raymond showroom, NIEPMED, Tamil Nadu Government Multi Super Speciality Hospital and The Rajiv Gandhi Government General Hospital – (2 of the largest teaching Hospitals), BOSCH Limited, Deutsche Bank, Apollo Hospital Administrative Office, Rajan Dental, etc.
7. Radio Talk Show
We thank Radio Chennai live 104.8 FM for broadcasting a live talk with Dr. Sivarajan Thandeeswaran, a leading Neuorlogist who spoke, on recent developments in MS – research, treatments and drugs.