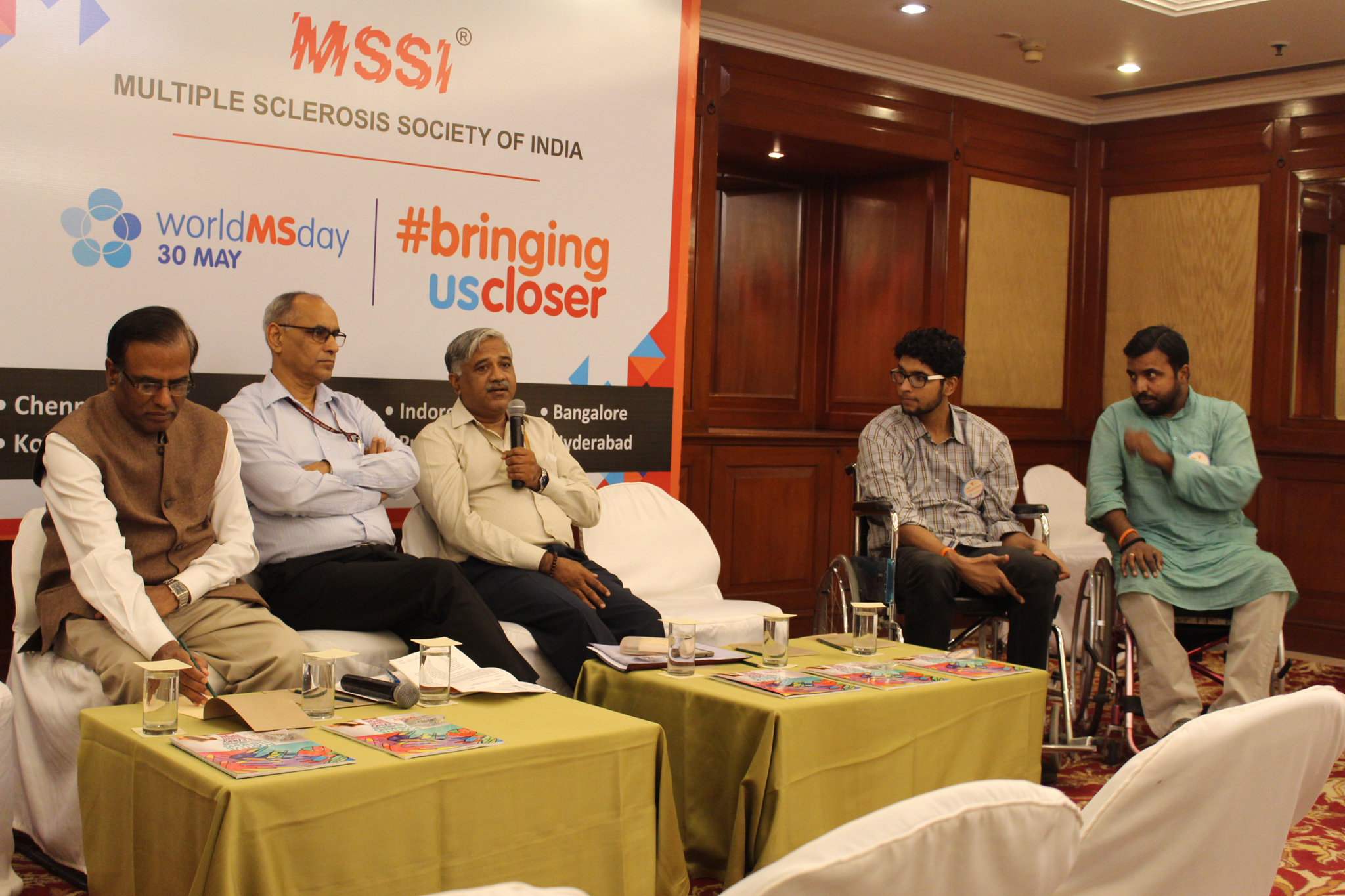 New Delhi 28 May 2018: Multiple Sclerosis Society of India(MSSI) commemorated 'World Multiple Sclerosis Day' in New Delhi the capital city of India.
We adapted the theme of #brininguscloser at the National Level to address the gap of lack of awareness & understanding about MS, plight of Person with MS and the role MSSI plays. We were able to stress on the fact that carrying out large scale population-based epidemiological study to determine true incidence and prevalence rates of MS viz a viz disease burden is the need of the hour
Our main target audience for this event were 2 critical stakeholders Ministry of Social Justice & Empowerment and the Media. The event format was a panel discussion followed by Q & A by PR professional. The panelist were   Mr.  K. Vikram Simha Rao – Director, Department of Empowerment of Persons with Disabilities, Ministry of Social Justice and Empowerment, Government of India Mr. T.D. Dhariyal – Commissioner for Persons with Disabilities, Government of NCT National Capital Territory of Delhi) Dr. Kameshwar Prasad Head of the Department of Neurology & Director Clinical Epidemiology Unit- All India Institute of Medical Sciences (AIIMS) Delhi and 2 of our MS Heroes Mr Rajiv Virat Wheelchair Instructor, Marathon & Tennis Champion & Mr Arun Srinivasan Graphic Designer and Artist
There seems to be a considerable shift in MS prevalence in India and this has really changed the notion of considering India as a low risk zone for MS. So much so that MS is included in the new Rights of Person with Disability RPWD Act and the ministry of Social Justice and empowerment has recommended that MS along with all other new disability be included in the Ayushman Bharat a national health protection scheme.
Ms. Renuka Malaker, National Secretary, MSSI, highlighted that as MSSI is a powerful voice of person suffering from MS in the country and if we sustain the momentum of  building awareness amongst all important stake holders only then we will be able to create the 1st MS Registry which will create a base for Research and Access to Affordable Treatment
For more information on MSSI please visit: www.mssocietyindia.org  visitwww.mssocietyindia.org/get-involved/