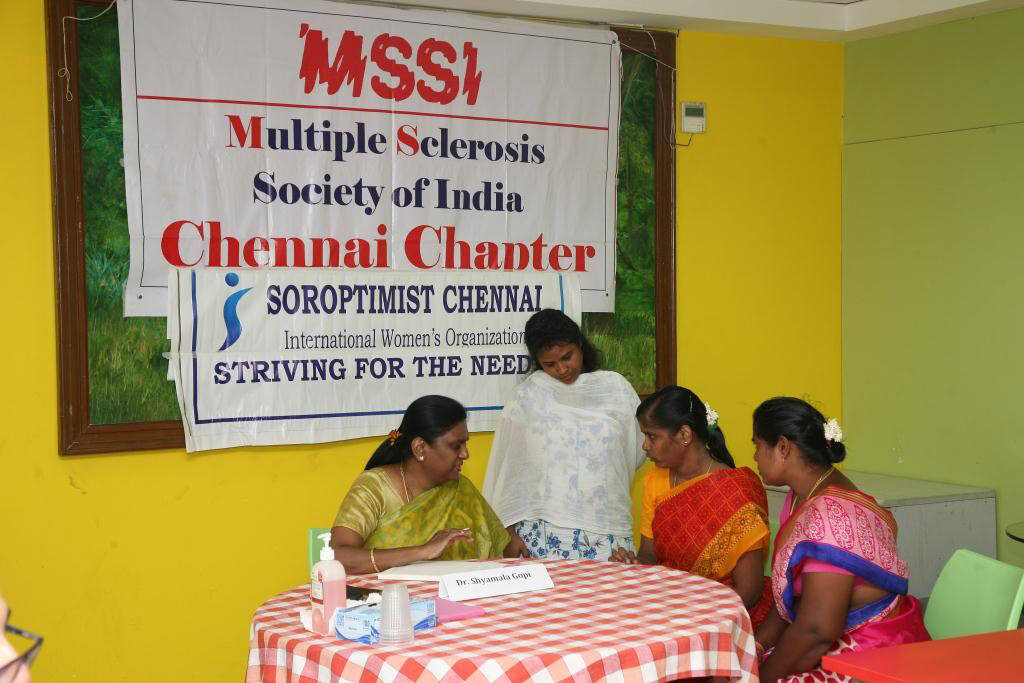 Soroptimist, Chennai, an International Women's Organisation, working for the needy, teamed up, with MSSI, Chennai Chapter, for a Medical Camp on "Incontinence in MS"  on 16/6/2018. This was to observe Incontinence Day which falls in the last week of June, 2018.
Dr. Shyamala Gopi – MBBS, MRCS, FRCS, Consultant Urologist, currently working at Apollo Main Hospital, Greams Road and Apollo First Med Hospital in Kilpauk. She has over 23 years of training  and worked in United Kingdom in Urology, and its subspecialties including Endourololgy, Laparascopy Urology, Uro Oncology, Female Urology, Neuro Urology and Urogynaecology. She is also a member Royal College of Physicians and Surgeons, GLASGOW, Royal College of Surgeons EDINBURGH PLAB, UK and International Continence  Society. She was  assisted by Dr. Arasi and a nurse, went into individual consultation, for each MS person present, both ladies and gents. In all there were about 30 MS persons, who along with their caregivers, benefited by the camp. Prescriptions were given for urine culture tests, ultrasound and other diagnostic procedures to be done. MS persons were advised to do the tests within a fortnight, they would be called to show their tests results to the doctors and take it forward, by way of medicines, exercise, etc.
Birthday cakes were cut by those who celebrated their birthday this month. They were Mrs. Gayathri, Mrs. Dolly Khanna, Mrs. Dhanalakshmi, Mr. P. Balaji, and Soroptimist, Mrs. Sheila Rao.
The meeting was largely attended and the follow up camp will be held shortly.