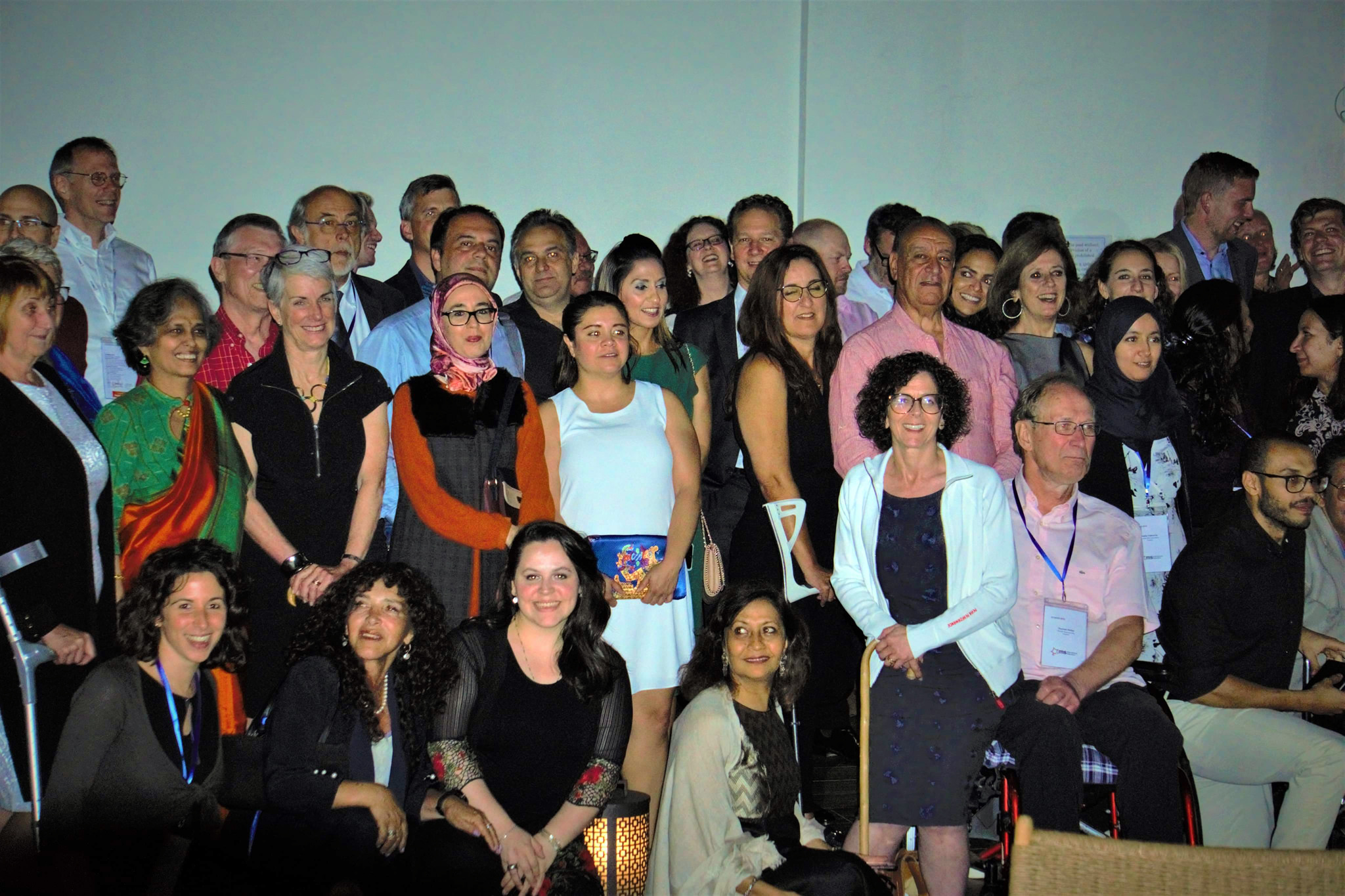 Introduction: MS International Federation conducts various meetings that are attended by their Member organizations.  These meetings include World Conference, International Networking meeting which is held once a year and is hosted by one member country or the other.  In addition to this, they either have other meetings with smaller groups or allocate slots within the 2 above-mentioned meeting for various working group & committees, which again member organizations can attend in person or digitally. While some of MS societies can afford to pay for their travel and stay, others need to raise the money/funds to do so like MSSI has been doing.
There were about 90 volunteers, staff and people with and affected by MS from 34 countries across the global MSIF movement attending the MSIF International Networking meeting held in Athens Greece from September 13 to 16 2019 conference.
This time in addition to Mr Viresh Oberai (President) and myself we were able to secure sponsorship from MSIF for Mrs. Mama Gupta (Member representing India on International Resource Alliance). Though MSIF had agreed to support Anjali Vyas who was also assisting us in the translation of the MSIF animation videos Unfortunately due to a health emergency she was advised by her doctor not to fly hence could not attend.
We are very thankful to MSIF and the Greek MS Society for their wonderful arrangements and warm welcome extended to us
Highlights of the meeting were 
People with MS Forum: well-being and quality of life
Every two years people with and affected by MS gather to give direct input into the work of the movement. This year, the Forum focussed on well-being and quality of life with MS. Participants contributed to the well-being element of the Progressive MS Alliance's research strategy and discussed programmes to reduce social isolation among people with MS and family caregivers. This was stimulated by an excellent presentation on the topic by EME, Spain.
The Forum participants also provided guidance on content, audience and format for an information resource on ageing with MS, which will be further developed by MSIF's International Resource Group, for publication in 2020.
Mamta Gupta who started off with helping me on the International resource alliance has now seamlessly transitioned into being an integral part of this working group. What makes it an enjoyable is that we have created a great procedure of communication wherein she writes to the head of Inter Resource alliance only after we both have discussed and arrived at a decision.
Joane Tiknor, Canada reached out to us for Urdu and Punjabi translations.
Appreciation on Hindi and Telugu translations from Victoria on the videos of MS and low self-esteem, a resource developed by international resource group
Sharing events and awareness ideas with Egypt, Mai Shawary New Chair of MSIF board, Reema and Ahmed Darwish.
Taking Anthroposophy forward with Germany with Herbert
Discussing alternative therapies with other countries
Pedro from Canada, Dimitri from Greece she is a champion are friends on Facebook…sharing their events
Have made other friends made on social media
In her observation, she has also said that we need to look into the representation from India on the PwMS advisory committee.
In my 2018 report, I had mentioned that We still need to be represented in the Person with MS Advisory Group.
In my 2017 report, I had mentioned that the group discussed the Principles to Improve the Quality of Life, the importance of tackling societal attitudes and support for mental health were emphasised.
MS Organizations' relations with the healthcare industry
I participated in these sessions as a member of the CEO Advisory Group where the discussions focused on relations between the healthcare industry and MS organisations. Of course, the industry is vital – we all want MS drugs to be developed, in European countries as well as in the US they provide much financial support for research which is very ethical and professionally done. However, since this is not the case in India that is something we need to think about when it comes to collaboration with the healthcare industry,
The CEOs reflected on the following in Athens: trust issues, power imbalance, or 'micro-branded' campaigns and websites with a lack of transparency about the companies behind them. I had mentioned that pharma and healthcare Industries work very differently in different countries and we need to know how MS societies have been successful in their partnerships with companies. MSIF will set up some working groups with industry to try to address such issues, with important input from the CEO discussions in Athens about what results we want to see.
Atlas of MS
This session was facilitated by Rachel King who is International Evidence Manager and she is working on publishing the 3rd edition of the MS Atlas. There were 3 group exercises followed by discussion and identifying challenges and possible solutions. When MSIF starts work on the MS atlas we will be informed on the methodology, timeframe. Since I am on the MS Atlas working group I will send updates as and when I get them and will also provide detailed information on what MSSI will need to do at the national as well as chapter level on a conference call with GC members and Chapter heads
MSIF is developing the next Atlas of MS, providing vital data about the number of people with MS and the support, care and treatment they can expect in different parts of the world. The CEO Advisory Group explored a new addition to the next Atlas: the survey of people with and affected by MS. In particular, participants debated the pros and cons of aiming for global coverage or of focusing on a selection of countries for this survey.
Some CEOs, particularly from organisations where recent, national surveys have been undertaken, were reluctant to burden people in their countries with another survey that might not result in change for them. Some felt that we would be able to get higher quality data if we focus on fewer countries. Others made the case that global coverage would yield vital indicative comparable data that could be used both at the global level by MSIF and by individual countries in their advocacy.
117 countries recruited. India being one of them
Patient-Reported Outcomes: Launch & Lancet
There was a presentation of the Patient-Reported outcomes project that MSIF and the Charcot Foundation launched at ECTRIMS, with the Italian MS Society as the lead agency and involvement from the Australian, Danish, German, UK, US and Swiss MS societies. The Lancet Neurology published an article about this initiative please click the link to read the article based on your interest: https://www.thelancet.com/journals/laneur/article/PIIS1474-4422(19)30357-6/fulltext
Access to treatment
The Council, the Board, the Fundraising and Finance committees, extensively discussed proposals developed after the MSIF Board's decision in April 2019 to explore if they should expand the MSIF-movement's ambitions.  MSIF Board of Trustees has created a task force of the board (Viresh is a member of this task force) to create a global program to improve access to treatment for people with MS. The goal of this program is the people with MS should be diagnosed as soon as possible and promptly be offered DMT that is right for them, to minimise diseases activity, optimise their brain health and help them live their best lives.
The proposals, developed by staff with a Taskforce of board members were built on all the experience gained so far in the access work from different countries. They will step up the work to improve access to treatments and healthcare, underpinned by more capacity building. The proposal is planned to be put up for approval in April 2020 to the MSIF board. If approved the program will be implanted in around 6 countries globally. It is important that we implement the current project being funded by MSIF on ADVOCACY providing significant benefits to MSPs in India if we would like to be selected as one of the 6 countries for the new global program of MSIF
Under the global initiative of access to treatment, the application to the WHO's Essential Medicines List (EML) was developed by experts from the medical fraternity, member organisations and PwMS. Medical expert inputs on epidemiological and clinical management are provided by Dr Kameshwar Prasad from the India perspective, he is in touch with Dr Gavin Giovanoni and many other neurologists. In fact, he was the one to bring out the fact that cheaper drugs have not been included in the EML and especially in India where MS treatment is exorbitant there needs to be access to affordable treatment
Pasting below the relevant section of the Executive summary
Medicines for multiple sclerosis: The Expert Committee recognized the public health need for effective and affordable treatments for multiple sclerosis (MS) but did not recommend the addition to the EML and EMLc of glatiramer acetate, fingolimod and ocrelizumab at this time. The Committee acknowledged the application's approach to increase access to MS treatments by prioritizing selected treatment options. However, the Committee noted that some relevant therapeutic options for MS were not included in the application (azathioprine and natalizumab) or were not given full consideration (rituximab). The superiority of presented medicines over other therapeutic options in the outcomes considered (benefits, harms, affordability) did not clearly emerge. The Committee would, therefore, welcome a revised application which comprehensively reviews the relative roles of relevant available medicines for MS.
The Lancet has published an editorial on MSIF's application to the WHO's Essential Medicines List, which you can read here: https://www.thelancet.com/journals/laneur/article/PIIS1474-4422(19)30390-4/full text.
MSIFs New Chairman Board
The Council also elected a new Board and a new Chair – Mai Sharawy (2nd from Right) from Egypt took over the reins from Weyman Johnson who retired after leading MSIF for the last eight years. Mai is very aware of the work we do in India and is extremely encouraging. Weyman Johnson & his wife are  yoga enthusiast and has expressed that he is very keen to know how the yoga project of Hyderabad does and especially said to keep him in the loop which is a big thing for us
Learnings and improving
With 90 delegates from across the world, Athens was an opportune moment to review where MSIF is with the movement's global strategy. During the Council and Board meetings, we explored the successes and challenges of our collaborations, and ways of improving how we work effectively as an international movement.
One issue that was highlighted was the need for stronger measures for and descriptions of our progress and the differences we make. It was also agreed that discussions about the next strategy might focus on a few key areas rather than on all aspects of our mission.
It was stressed that all member organisations – small, large and from whatever region – should benefit from the networking and the efforts of the movement. We might, therefore, explore how organisations with similar needs can work in clusters, or how we can 'match-make' between two or more organisations.
In 2017 report I had mentioned that the Way forward was to request MSIF advocacy workshop for our Staff & Volunteers that was successfully achieved
In my 2018 report, I had shared that I was particularly impressed by the fact how progress has been made in building a stronger, broader movement through collaborations. For instance, in the Arab region through collaboration with MENACTRIMS. I shared that MSSI is collaborating with ICTRIMS for the first time as a national body with representation from all of our regions to work together with Medical fraternity, healthcare companies & government. I was being able to bring the India perspective about the challenges we face in our country with respect to lack of awareness leading to late diagnosis & lack of access to affordable treatment.
In my Rome conference report, I had shared a lot of learnings which included the following
We should learn from the success of Italian, Danish and Australian MS societies on how they have a strong Youth MS group, are decision-makers and board members of their own MS societies.
MSIF plans to conduct a global survey of MS person and MS organizations
MSIF is working towards publishing the 3rd edition of Atlas of MS in 2020
Most of the MS societies have a medical advisory board that helps in bringing a better understanding on what patient welfare societies can do to further improve the quality of life of people with MS. Information on treatments and updates on research is an area where India lacks information We have made a good beginning at ICTRIMS and Professor Comi is one of the world's leading MS neurologists and a pioneer in the development of disease-modifying therapies in MS who we all met at ICTRIMS mentioned in his speech that doctors in India are showing interest to work with MSSI which is a very good thing.
Multiple Sclerosis Spain (EME) has repurposed the Quality of Life Principles by producing a visually engaging guide that accompanies each principle with a set of tips. We can definitely do this and engage with Spain to understand better how we can replicate this
I learnt that in 1995, the Society of Lebanese Friends of People with Multiple Sclerosis (ALSEP) was established in Zahle to provide support for people with MS in Lebanon. It relies on a small voluntary board to run its activities, including physiotherapy, providing information about MS, and organizing awareness-raising activities. They have done some great work in advocacy and demanding reduced cost for MS treatment and have managed to get it down by 75%. We also must work in full earnest on the advocacy project so that this activity can be showcased at a global platform in the coming years.
After attending the parallel session Online and teleservices I met Cynthia Zagieboylo (President CEO National MS society USA and Dr Timothy Coetzee (Chief Advocacy, Services and Research Officer for the National MS Society USA) to discuss potential collaboration
A lot of the learning and partnerships have worked out and next time we must raise funds and have energetic people on various committees representing India and continue the process of learning from other international MS Societies
Prepared By
Renuka Malaker (Hony National Secretary)