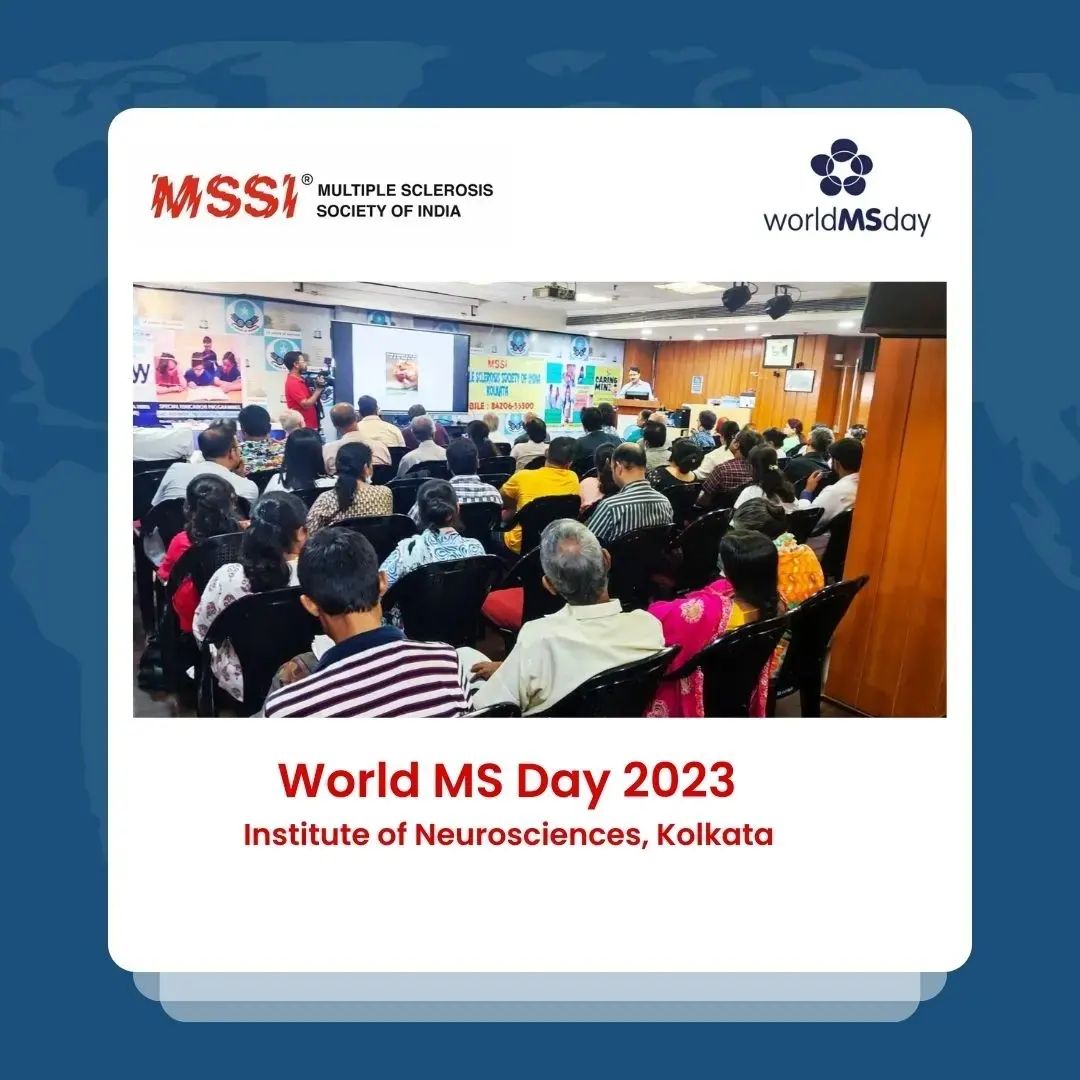 As evening descended on Saturday, 3rd of June 2023, the suave auditorium on the 9th floor of Institute of Neurosciences, Kolkata (INK) was decked up for the gala event of MSSI, Kolkata – "Our Talkathon", a series of talks by the highly respected team of doctors and medical technicians of INK followed with an interactive Q&A session between them and our PwMS and their caregivers.
The event was inaugurated by the founder Chairman of INK – Prof. Dr. R P Sengupta, The special guest for the evening was popular musician and singer – Sidhu (Dr. Siddhartha Roy) who also happened to be a medical college alumnus of Dr. Sengupta. Together, they shared some light moments on stage and Sidhu also sang his popular song "Bhalo thakar gaan" which he had composed, performed and recorded for all the MS friends, a few years back.
Also present for the evening were popular film actress Ms. Ananya Basu and upcoming film Director Shri Shibesh Motilal. Then, the most important and much awaited "doctors speak" started with Senior Consultant – Neurology – Dr. Ashis Datta starting off the program with "Hoping for a relapse-free life".
Prominent speakers in the series were Prof. Dr Bibhukalyani Das (Pain& Palliative care), Dr. Rashmi Saraff (Ophthalmology), Dr. Suparna Gangapadhyay (Neuro rehab), Dr. Praveen Kumar (Psychiatry), Ms. Minakshi Majumder (Diet & nutrition), Dr Santosh Trivedi (Recent drug trials in MS).
The entire event was hosted effortlessly by the Hon. Joint Secretary of MSSI, Kolkata – Shri Anirban Banerjee along with MSSI Kolkata team.
It was a very successful event where all present were "winners" and was well covered by different media houses, radio and TV channels like Aajkal, Dainik Viswamitra, All India Radio, News 18 Bangla, TV 9 , News Kalinga etc.