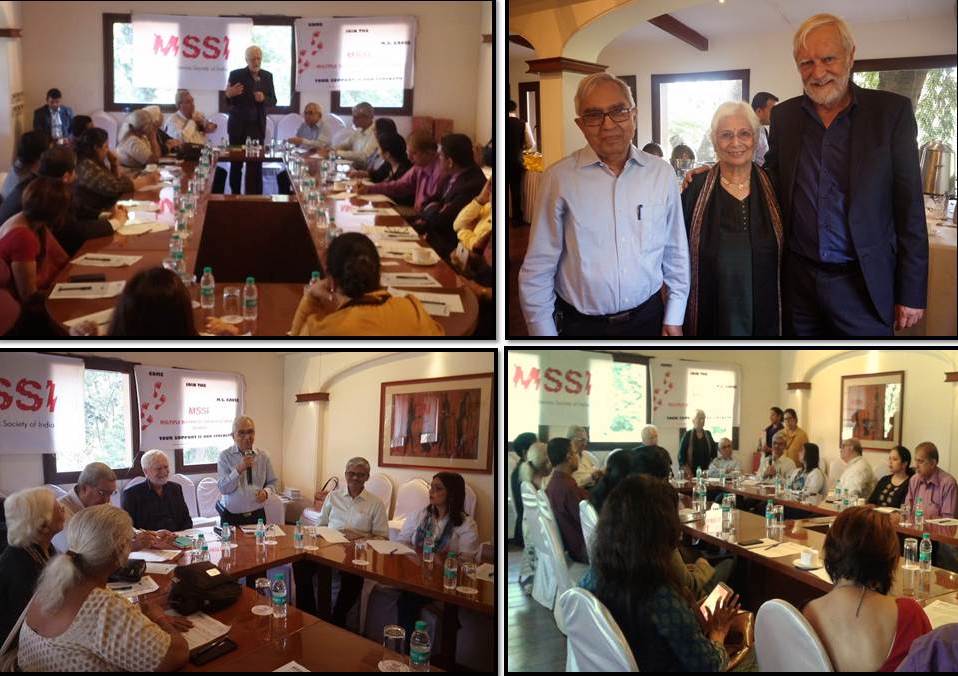 Roundtable Discussion on "The Invisible Symptoms of MS, Rehabilitation of MS Patients in the Indian Context and
New Treatments"
On Sunday 16th December, MSSI Mumbai organized an interactive Roundtable Discussion at Gulmohor Conference Room, The Willingdon Sports Club, Tardeo, Mumbai, with Neurologists: Dr. Bhim Singhal, Director of Neurology at Bombay Hospital & Prof. Jürg Kesselring, Member of the ICRC, President of Move Ability, Senior Ambassador and Neuro expert, Dept of Neurology & Neurorehabilitation, Kliniken Valens, Switzerland. Convened by Dr.Sarosh M. Katrak, Director, and Department of Neurology at the Jaslok Hospital & Research Centre.
 The following Neurologists & Doctors along with Managing Committee Members, 4 MSPs & Sanofi Representatives were present:
Neurologists – Dr. Singhal, Dr. Katrak, Dr. Jurg Kesselring, Dr. Pravina Shah, Dr. Joy Desai, Dr. Jimmy Lalkaka, Dr. Rajesh Benny,  Dr. Charu Shankhla, Dr. Deepak Ahiwale.  Dr. Anil kumar Gaur, Director, All India Institute of Physical Medicine & Rehabilitation, Dr. Ashish Contractor, Head: Dept. of Rehab and Sports Medicine, Sir H.N. Reliance Foundation Hospital, Dr. Abhishek Shrivastava, Director in Rehabilitation Medicine & Neuro rehab Specialist, D.K. Ambani Hospital.  Dr. Poonam Bajaj, Physiotherapist, Sir H.N. Reliance Foundation Hospital.
The discussion was on "The Invisible Symptoms, Rehabilitation of MS Patients in the Indian Context and New Treatments".
A warm welcome speech was given by Sheela Chitnis, Founder MSSI & Vice Chairperson, Mumbai.


The discussion is summarized as follows: 
Invisible Symptoms –
The following symptoms came up in the discussion – Fatigue, Bladder control, Cognitive problems like problems of memory, Sexual problems and Emotional issues.
The following ways were discussed to deal with them.
MS related fatigue has to be treated just like fatigue that is related to
Non-MS Persons.  Fatigue can't be dealt with any medicine.  Rest is the
best remedy.
In case of Bladder Control, pelvic floor exercises in physiotherapy are
helpful.
Cognitive issues are best dealt through alternate therapies like
Meditation, Yoga etc.
Expensive DMT – Issue about DMTs being expensive was discussed. This makes the DMTs inaccessible to a lot of patients in India.
Rehabilitation – Rehabilitation is an important aspect of dealing with MS.  The doctor and patient have to focus on rehabilitation. Various aspects were discussed on this topic.
Resilience:  Patient should be motivated to be Resilient.  Human body has the ability to self-heal to an extent.  Brain displays Neuroplasticity.  Both put together enable the patients to rehabilitate.
RDS : Reward Deficiency Syndrome (By Kenneth Blum) and Flow – Positive Psychology (Mihaly Csikszentmihalyi) came up for discussion too.
Spirituality: gives the necessary thrust to Resilience.  Given the great Meditation techniques available in India, this should be used effectively for rehabilitation of patients.
Right attitude: The doctor can play an important role in helping patients psychologically.
Use of Mental Training in rehabilitation.
Music Therapy: it can support brain function. Learning Music & learning new language are all brain exercises to keep the brain active and functional. This is helpful in MS and also a way to avoid Alzheimer's disease and Dementia.
Sleep: without distraction is necessary and helps in healing. Avoid sleep medication.  Radiations from mobile phones should be avoided.
Some level of stress is necessary to ward off laziness.
Group Therapy : Doctors should have group sessions with their MS patients to learn from their experiences.  These experiences can help doctors.
Horseback Therapy: was discussed as is practised in Valens.  Various Components makes it a good therapy.
Other things that were discussed are:
CIS (Clinically Isolated Symptoms)
Use of various vaccines in MS patients was discussed.
Should MS patients be given Disability Certificate by default?
The seminar ended: with a Summary of the Session by Sandeep Chitnis, National Vice President of MSSI & Chairperson, Mumbai.
In all 31 persons were present for the Roundtable Discussion.