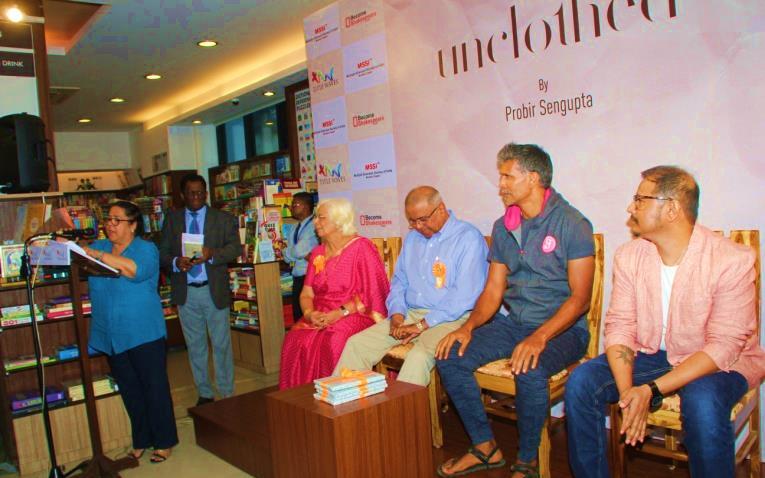 Multiple Sclerosis Society Of India (MSSI), Mumbai Chapter, World MS Day 2017
Multiple Sclerosis Society of India (MSSI), Mumbai Chapter on the occasion of World MS day 2017 had organized a mega launch of first Fictionbook 'Unclothed written by MS patient Probir Sengupta, at the hands of Milind Soman, MSSI Cause Ambassador.
This Event was organized at Title Waves, Bandra on 31st May at 6 pm. MSSI had published this Event worldwide on MSSI website, Face book & Multiple Sclerosis International Federation website also.
On behalf of MSSI, Mrs. Afsaneh Randeria, Joint Honorary Secretary welcomed all & briefly spoke about MS, MSSI and observation of World MS Day. To show the solidarity everybody formed the human chain wherever they were present.
We were very honored by the presence of our Chief Guest, Mr. Hemant Nerurkar, former Managing Director, Tata Steel & Milind Soman, Cause Ambassador, MSSI.
Mrs. Renuka Malaker, National Secretary, MSSI specially came from Delhi to attend the Book Launch. We were very honored by the presence of eminent Neurologist, Dr. Charulata Shankala, from Hinduja Hospital.
Mr.Nerurkar gave a brief encouraging message for MSSI & on behalf of MSSI, was presented a memento by Mrs. Chitnis. Milind spoke about his long 20 years association with MSSI & encouraged Probir's initiative as an Author & MS Warrior.
Probir Sengupta had his first MS episode was when he was in his thirties & had an high profile career in advertising. but he had to leave the job due to his MS problems. At home he didn't sit idle nor lost his creativity & the result is this wonderful book of fiction.
MSSI encouraged his spirits and supported him fully by launching his book worldwide. Today Probir has actually become an inspiration to MS patients. On behalf of MSSI, Both Milind Soman & Probir were presented a memento by Mr. Hemant Nerurkar.
The bookstore was filled with the enthusiastic crowd. Milind then released the book "Unclothed" & read a Chapter from that book.
Malini Nair, head of publishing at BecomeShakespeare.com. briefly shared her experience of publishing Unclothed & working with Probir.
In regards to his writing of the Book, Probir ,very actively participated in an interactive session of Question Answers from the audience.After the panel discussion on the book, the event concluded with a thank-you note from Mrs. Sheela Chitnis, Chairperson, Mumbai Chapter.
A MSP Foram Gada, had made a beautiful Card with slogans and all present MSPs signature. It was presented to Probir & he was very happy to receive it.
The books were available for purchase at the counter.
It was a successful event& it was available live on Probir's Facebook page. The launch was attended by about 100 people including MS patients & families, Committee Members, Probir's family & friends, Well-wishers & MSSI Team.