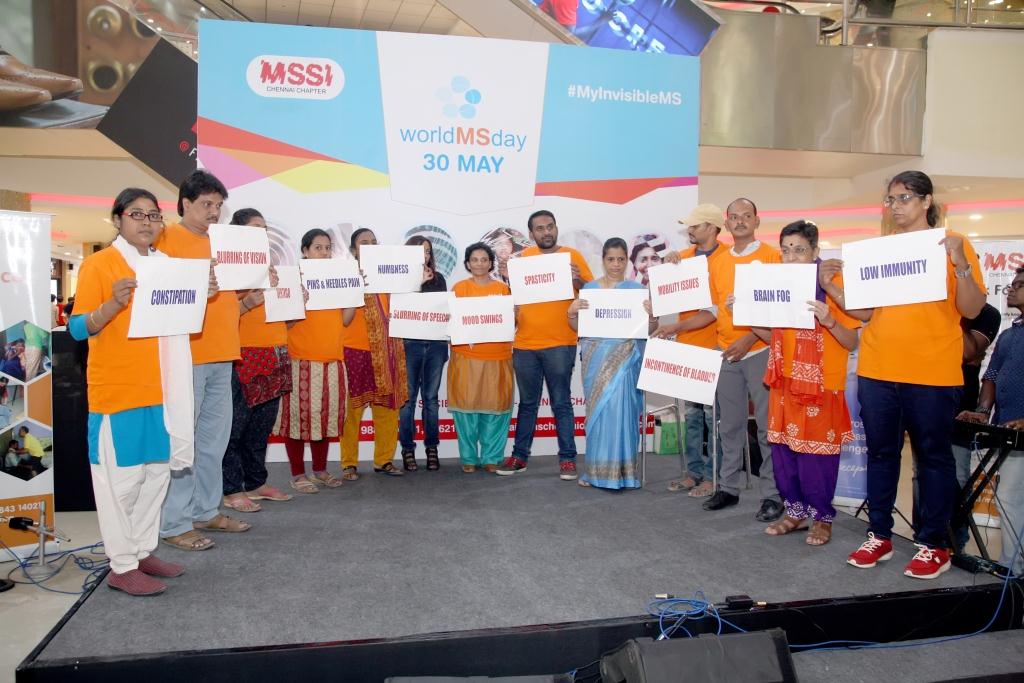 Event 1: WORLD MS DAY PROGRAMME ON  19th May 2019
Multiple Sclerosis Society of India – Chennai Chapter  together with Merck Serono organized an Awareness program on theme of World MS Day – "My Invisible MS Symptoms", at Hotel Savera. The Chief Guest for the program was Dr. Deepak Arjundas from Vijaya hospital.





Event 2: WORLD MS DAY PROGRAMME AT  EXPRESS AVENUE
World Multiple Sclerosis Day 2019 is on May 30, 2019, and it is the only global awareness raising campaign for Multiple Sclerosis, the world over.
This year MSSI Chennai Chapter partially sponsored by Sanofi, created an Awareness programme, in observing World MS Day on 23rd Thursday at Express Avenue Mall at 6.00 pm. The Chief Guest for the program was Ms. Dipshi Blessy from Youtube channel – PutChutney.
The awareness program was through a music performance by our MS person crew known as Q- Elements. The lead singer was an MS person, a lady of great talent.  The fantastic dance performance was by Dance studio.  A Stand-up comedy and our MS persons created the much need awareness of MS by holding the placards of the Theme of World MS Day " MY INVISIBLE MS". The MC for our program was one of our MS person himself, and he did a wonderful job.






Event 3: World MS Day – PRESS MEET REPORT
World MS Day observed on 30th May 2019.  To raise awareness of "My invisible MS", Press Meet was arranged at "Chennai Press Club- Chepauk". The press meet was addressed by Neurologist Dr. M.R Sivakumar, who spoke in detail about the diagnosis, treatment, recent developments in medicine, etc. Mrs. Ann Gonsalvez Chairperson spoke about the activities of MSSI Chennai towards the welfare of Persons with MS and establishing life- long care and support system for them. Ms. Smitha, Committee member, told the press about the need for government to acknowledge MS as Multiple Disability due to more than 41 invisible symptoms apart from the visible ones, the various barriers faced and huge restrictions in the participation of persons with MS due to the same.
It was covered by English and Tamil News, also telecasted and published on the same day as well as the next day.
No: of : Tv Stations – 7 such as Moon tv, Jaya tv, Thamarai Tv, MMTV, IBC, TNA and Polimer News.
No : of : Tamil papers – 4 such as Tamilsudar, MGR News, Dinabhoomi and Mudalseithi
No : of : English papers – 4 such as Deccan Chronicle, Indian express, Newstoday and  The Hindu
No: of : Malayalam papers – 1 that is Mathurubhoomi
Here are the link of the newspaper.



Event 4: Awareness Programme on "Invisible Symptoms of MS at AGS Cinemas.
The video was screened on 3 AGS CINEMAS on 30th MAY, this is the poster Created by  MSSI –CHENNAI CHAPTER by using the Poster making tool from the website and collaged to raise awareness of Multiple Sclerosis and it's Invisible Symptoms. Video attached in zip file.