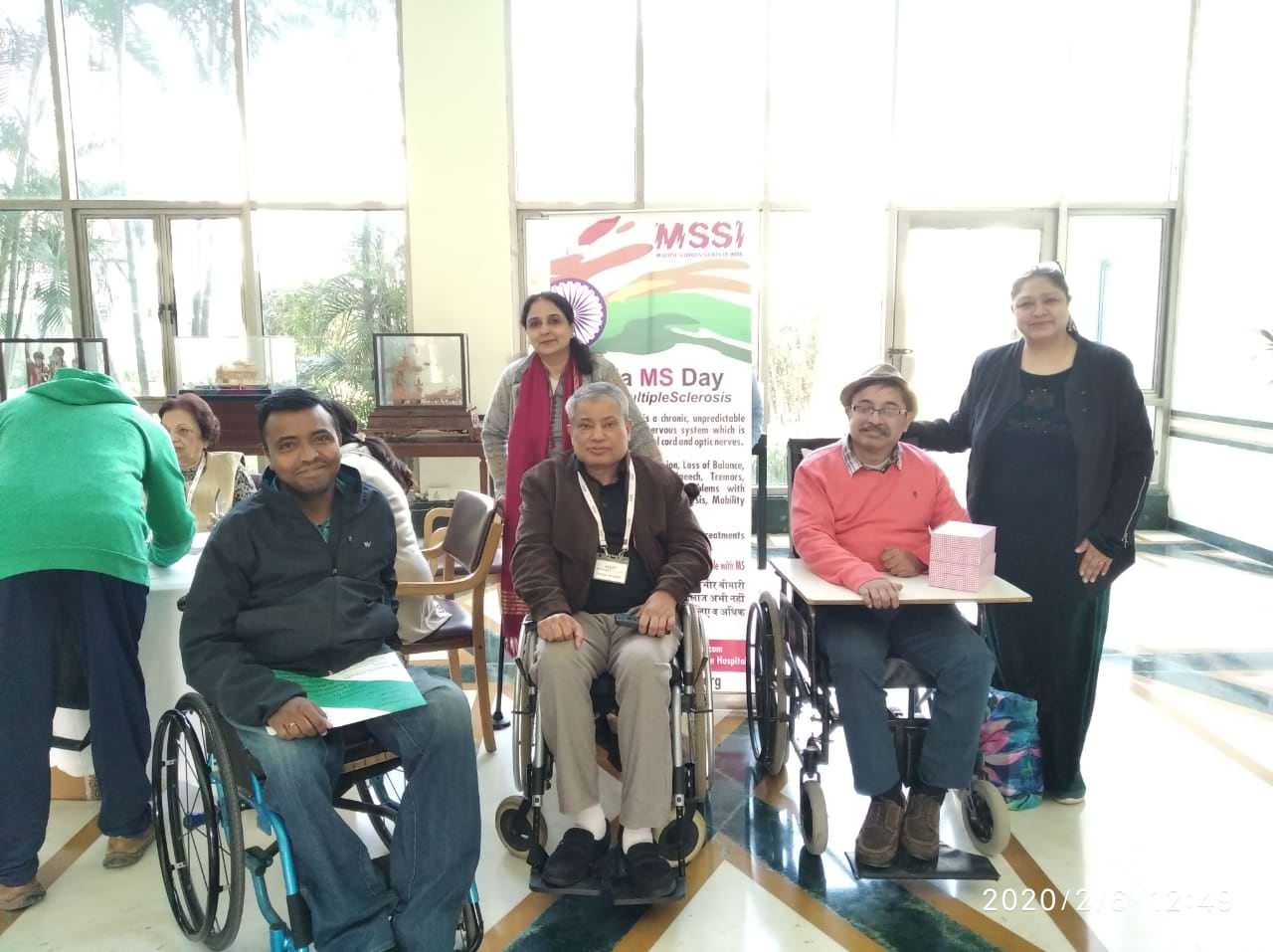 AWARENESS BLITZ AT HOSPITALS ACROSS DELHI/ NCR
An Awareness campaign under the theme #knowMultiplesclerosis with MSSI Info Standees was launched by MSSI Delhi for the IMSD week starting 1st February 2020.
Standees with the IMSD logo and a few lines on What is MS (in English & Hindi), along with contact details of the Delhi Chapter were placed in prominent locations at 12 leading Hospitals across Delhi NCR . These are as follows:
The Annual Delhi Neurological Association Conference Ambedkar Hall, New Delhi from 30 Jan onwards. It was expected that up to 1000 people would attend this conference over a period of 2 days
GB PANT HOSPITAL OPD RECEPTION
PUSHPAWATI SINGHANIA HOSPITAL
VIMHANS HOSPITAL INDIAN SPINAL INJURIES CENTRE
GANGA RAM HOSPITAL
IBS (INDIAN BRAIN & SPINE ) HOSPITAL
MAX HOSPITAL PATPARGANJ
MAX HOSPITAL VAISHALI, Ghaziabad
VIMHANS, ISIC
ARTEMIS Hospital ( Permanent placement)
MEDANTA Hospital Gurgaon ( LED Screen )
APOLLO Hospital
We have got 4 new enrolments in the month of February.









As part of INDIA MS DAY 2020, Delhi Chapter organized a Health Check Up camp at Indian Spinal Injuries Centre Hospital, Vasant Kunj on Thursday 6th February 2020 between 12 Noon – 5 pm. This was for all PwMS and their caregivers at the end of a long & bitter winter!
The programme included exclusive one on one free consultations with related to medicines, treatments, management of MS in daily life with the following specialists,  Neuro-physicians, Urologist & Internal Medicine on issues of general health, MS / neurological issues, pain management, urine /stool problems etc.
Patients started trickling in from 11.45 AM onward. By 1:30  PM almost all the PwMS attending had registered.
All the MS patients consulted the neurologist & urologists. Based on their requirement, some were referred to the other specialists as well.
100 packed boxes of Lunch / Refreshments were arranged for MS Persons & the caregiver. A conscious effort was made to help out MS families wherever possible, therefore the lunch box was prepared by the family of a PwMS (Ms. Richa Bhambri )- the packed professionally home-style meal was enjoyed by all and shared with the staff of ISIC as well. .
The programme was attended by 28 PwMS accompanied by their caregivers, volunteers, EC Members & staff.
We were approached by several visitors to the Hospital, and pamphlets & information was distributed. We also identified one new MSPerson who is now getting registered with the Delhi Chapter.
GRATITUDE TO Volunteers Ms Ameeta Gupta, & thanks EC Members Milly Murgai & Pinky Hora for conducting the registrations in a systematic & efficient fashion.